Rocketman
[
]
Renate Blauel is a German sound engineer who marries and divorces Elton John in Rocketman. The film portrays their relationship as disattached and short-lived.They meet in a recording studio as Blauel is putting the finishing touches on Elton's disco-fueled "Victim of Love". They sing a duet of "Don't Let the Sun Go Down On Me", which features a quick montage of their wedding, as well as their domestic life. Elton and Blauel are seen sleeping in separate rooms and then share an awkward breakfast together. They share a look of discontentment before Elton utters a solemn "I'm sorry." to which Blauel responds "I know." Elton is later seen having dinner with his mother and stepfather, who discuss his divorce with Blauel. Renate is played by Celinde Schoenmaker in Rocketman.
"Dɪᴅ ʙᴇɪɴɢ ᴍᴀʀʀɪᴇᴅ ᴍᴀᴋᴇ ʏᴏᴜ ʜᴀᴘᴘʏ?"
[
]
"Nᴏᴛ ʀᴇᴀʟʟʏ, I'ᴍ ɢᴀʏ."
[
]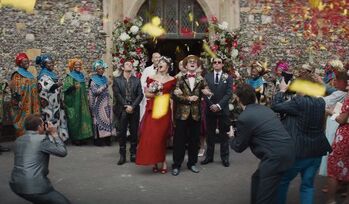 Reality
[
]
Elton John's former wife. Elton and Blauel were married in 1984. In an attempt to convince himself that he was bisexual, Elton thought he had fallen in love with Blauel. However, both saw the relationship as unsatisfactory and mutually decided on a divorce 4 years later in 1988.